We've had a wet, cool spring here in Minnesota, so the arrival of summer has come like a flash! All of a sudden, the trees are full with foliage, gardens are exploding with all the colors of the rainbow, the sun is shining, and the outdoor festival season has begun. One of the things I really love about the Twin Cities is the Season of Celebration, otherwise known as summer. There is no shortage of celebrating the warmth and extended daylight with music, art, theater of all kinds, restaurants spilling out onto the sidewalks, and plenty of places to play, play, play.
Griffin and I enjoyed our first festival today, the Flint Hills International Children's Festival in downtown St. Paul, and it really felt like a true kickoff to summer! We started our visit with a theater performance at the Ordway called Corbian the Dinosaur (check out the link! It's really cool!) It was billed as a "glow in the dark adventure," and it seemed right up his alley. This was Griffin's first professional theater experience, though, so I wasn't sure how long he'd last. But to start off, he was fascinated by the theater with its gold railings, velvety seats, and lights along the aisles! I chose seats close to an exit just in case we needed to make a quick escape, but as soon as the lights dimmed, he settled into my lap and watched. the. show. for. an. HOUR! I couldn't believe it. He was entranced by the glowing figures, loved to clap with the audience, and yelled out, "ALL DONE!" whenever a scene would end (we'll work on theater etiquette at some point!). A smashing success!
Next we headed out across the street to Rice Park where there were vendors, free art projects, and shady spots to watch people dancing on the side of a building. Seriously. These acrobatic building dancers called Project Bandaloop were AMAZING. Actually, I thought they were incredible and mesmerizing while Griffin was all into the bronze Peanuts sculpture of Lucy reading a book that we were sitting next to. Ah, to each his own.
The icing on the cake was nearly an hour spent in a public fountain seemingly made for water loving kids (and Griffin is most definitely a water loving kid who sometimes asks for a bath 3 or 4 times a day). Hamm Plaza was transformed into Discovery Garden (check out this time lapse video of it being made), which really should have been called Joyful Garden. I wish I had brought our good camera, but here are some shots from my phone of Griffin in the midst of pure summer bliss: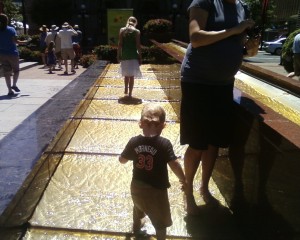 All in all, a fabulous start to summer. Bring on the adventure!